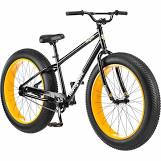 A fat tire bicycle is the new "in" bike for all weather and all terrain cycling. Most mountain bikes or cruisers use tires with a 2 inch wide tread but fat tire bikes can range from 3 inch all the way up to 4.25 inches wide.This can make a huge difference when riding on sand, snow,loose stones or any irregular terrain.
The wider tread not only is more stable and grips better it is easier on the butt since it helps to cushion the shock that comes with any off road cycling.
There is a trade-off however since the greater surface contact and the added weight do require more pedal power. Most riders seem to feel that the trade off is worth it. Even some hard core mountain bikers are going for the fat tire bikes since they don't need suspension which can be higher maintenance and expensive to cushion the ride.
Fatties are often only inflated to 15 psi or less which gives more contact surface and greater grip. 
Riders who refuse to stop riding in rain or snow can keep right on riding year round. The same can be said for riding on sandy terrain.