An Electric Recumbent Tricycle Offers
A Smooth And Comfortable Ride
An electric recumbent tricycle can be the perfect solution for a recumbent rider that would like to have some help when the going gets a little tough. Or anyone that wants to add a little spice to his or her riding experience.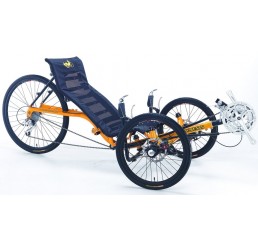 TW Bent Artifice Electric Recumbent 24 Speed
Some times you just want to take a break from pedaling and just sit back and enjoy the ride. Or maybe you just want a little help on hills or riding into a headwind. With an electric recumbent you can choose what kind of ride you want and do it in comfort.
The older style two wheel recumbents have all but been replaced by the three wheel designs. The big advantage here is eliminating the balance issues making them much more rider friendly. This is especially true when starting from a dead stop which can be a bit of a challenge with a two wheeled recumbent. And the heavy duty brakes enhance to control as well.
It can be pedaled at any time with or without pedal assist. The seats are adjustable for maximum comfort and pedaling efficiency. It has a weight capacity of 275 lbs so it will accommodate larger body types.
Additional features are
 QUICK FACTS:
X Seam Minimum: 38"
X Seam Maximum: 52"
Maximum Rider Weight: 275 Lbs
Bar End Shifters
Computer Display for Motor
Computer Display Mount
FEATURES:
Rear Rack
Frame:Cr-Mo 
Steering link-rod: Aluminum Alloy 
Handle bar:Aluminum Alloy
Seat:Aluminum alloy frame with AIR MESH 
Cassette:SARM PG-85011-32t 
Tires:Kenda high pressure F/20", R/26"(F/406,R/559) 
Rim: Double wall CNC side walls 
Brake:PROMAX Mechanical disc brake 
Add it all up and you get a sweet ride that just about anyone can enjoy.
---
Here are some more great choices
---
Looking for electric tricycles go here