An Electric Recumbent Tricycle Offers
A Smooth And Comfortable Ride
An electric recumbent tricycle can be the perfect solution for a recumbent rider that would like to have some help when the going gets a little tough. Or anyone that wants to add a little spice to his or her riding experience.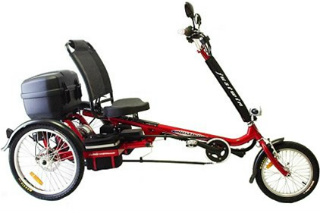 Some times you just want to take a break from pedaling and just sit back and enjoy the ride. Or maybe you just want a little help on hills or riding into a headwind. With an electric recumbent you can choose what kind of ride you want and do it in comfort.
And since it is a tricycle, you don't have the balance issues that you have with a two wheeled recumbent or a bicycle so anyone can ride it. And with the heavy-duty disc brakes you are always in control.
The electric recumbent shown is known as the COOL eRIDER and is actually very cool.
It can go up to 37 miles on a charge at up to 15 MPH, can be pedaled at any time with or without pedal assist. The seats are adjustable for maximum comfort and pedaling efficiency. It has a weight capacity of 400 lbs so it will accommodate larger body types.
Another awesome feature is the rear suspension for a softer ride.
It even has a trunk with a lid to keep your stuff clean and dry.
Additional features are
Front and rear lights
Turn signals
Horn
Rear view mirrors
Brake light
Dual disc rear brakes
Speedometer/odometer
39Ah SLA batteries
Add it all up and you get a sweet ride that just about anyone can enjoy.
Looking for electric tricycles go here